About Us
Epitome Pens began as a quest to provide the perfect fountain pen to the world. We found that among thousands of fountain pens available, there was something missing in each of them and there was no perfect fountain pen for hobbyists. This led our founder, Vinamra Tapadiya to start a pen company that would deliver fine writing to each and every individual of the community whilst providing them an experience like no other. Thus, the name, Epitome was adopted and our company was born.

Today, the Epitome Pen Company is an Indian fountain pen brand manufacturing handmade fountain pens with  exquisite care and intricate detail. Each pen is designed with aesthetics and ergonomics, keeping in mind the industry standards. Our products are manufactured under the guidance of industry experts with research at its core. Through our products, we believe in spreading the love of the world's most fine writing instrument - the fountain pen. Our products are made for everyone; catering to every individual's need while using a writing instrument. Each pen is manufactured with high quality materials and exclusive care towards each and every single step. We believe that our customers deserve nothing but the best, and want writing to be a pleasurable experience for them. Personal attention is given to every fountain pen right from its manufacturing to its packaging until it reaches in your hands.

We believe that we are the custodians of Fountain Pens and with that in mind, we want to do nothing but improve fountain pen writing in the community. We invite you to be a part of the Epitome Pen family today by holding an Epitome pen in your courageous hands.

Designed by Fountain Pen Guy©. Proudly Made in India with Love.
"It's all about winning—improving the fine details, achieving better and that simply can be done with an Epitome Fountain Pen."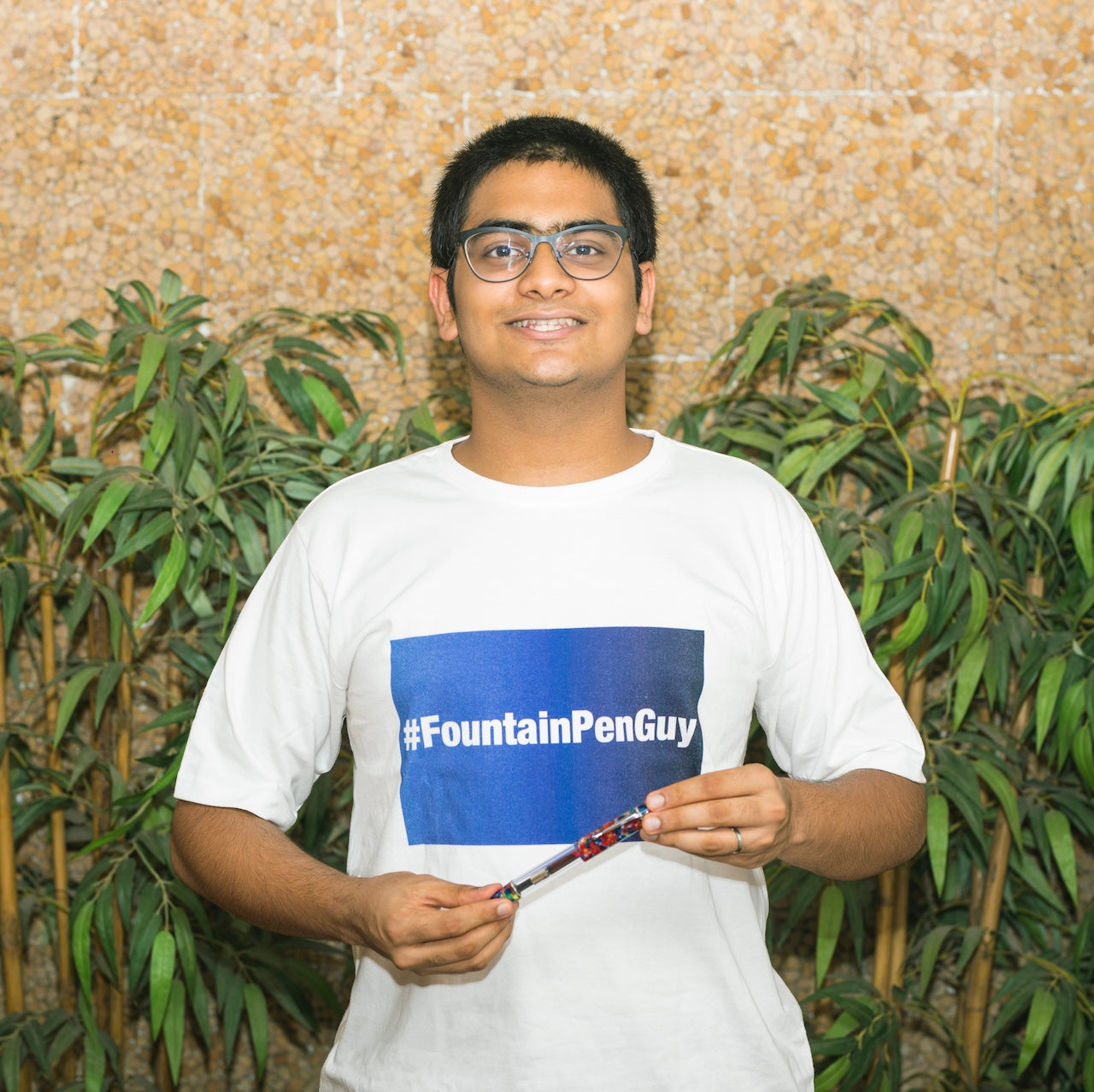 Meet Vinamra, Epitome Founder
Vinamra Tapadiya is a fountain pen connoisseur and the "face of Epitome Pens". He is the vision and our one-man army of the Epitome Pen Company.
​A born entrepreneurial leader, he has no shortage of ideas for fountain pen designs and taking the next big step for the company. Passionate at heart, he believes in achieving the smallest of things with sheer perfection. He paved his way into the world of fountain pens by making comprehensive fountain pen education videos on YouTube under his brand "Fountain Pen Guy". After being several years in the fountain pen community and gaining knowledge from several individuals, he wanted to take the next big step by designing and manufacturing his own perfect fountain pens for the world. He dreamt of Epitome Pen Co. 2 years ago, and today the very fact that an Epitome fountain pen in your hand is possible is due to the hard work put in by him.
Other than Fountain Pens, you would find Vinamra binging on his favorite Netflix shows and munching on his evergreen Italian food, especially Pizza. And not to forget, he is a university sophomore student pursuing his Bachelors in Business Administration in the United States.